Over the last week the weather here has finally begun to comply with the season. While anyone from up North would laugh at our "cool" mornings of 65 degrees, those of us from the South are welcoming the soothing temperatures with open arms. I've gotten into the habit of snuggling Mister down in the sling and sitting on the front porch for my morning coffee. He and I enjoy our little quiet time in the morning, watching the kids on the corner catch the school bus that B *SO WISHES* she was riding on off to school. I get quite a bit of satisfaction watching the cars go by with all of their drivers hurrying off for another day at work. The past year as a stay at home mom has been total bliss for me, and I'm not entirely sure that anyone could offer me enough money to go back to work full time.... possibly not even part time.
I love when they roll up the field across the street from our house. In the last four years that we've lived here, it has become my personal sign that Autumn is finally here. I love how neat and tidy the field looks with it's big golden balls of hay looking as though they've been placed *just so.* It almost says, "Okay, Summer is finally finsihed, let's roll it up and bring it home boys."
In Alabama, it takes a little bit longer for the foilage to begin to change than most places. The leaves and trees are still green, and the fields are still full of life and growing things. But we still get in our pretty yellows and deep purples in the fall flowers. These are all wild growing plants that take over the sides of the road this time of year.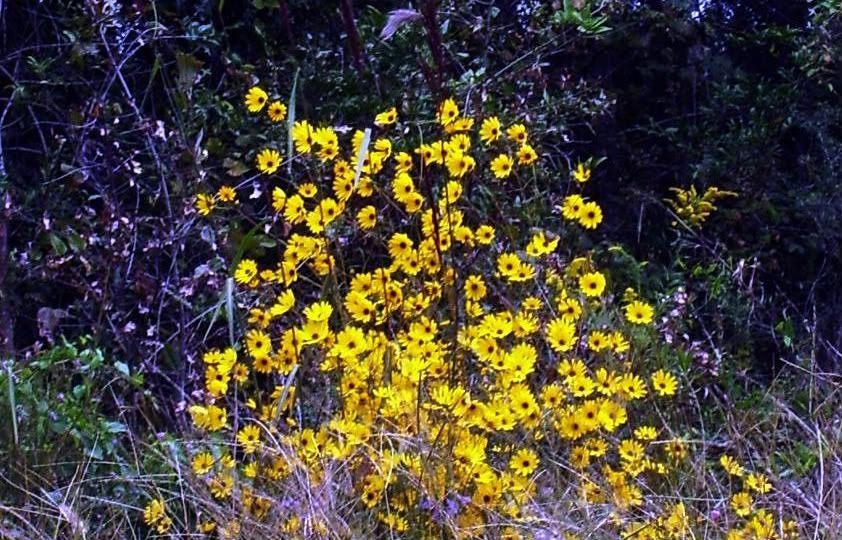 My favorite bits of yellow are the happy Black Eyed Susans that wave at me as I drive by. On more than one occassion I have been known to pull my car over to the side of the road and gather up huge arm loads of them to bring home. Today I decided they look much more beautiful in their natural habitat than in a cheap vase on my dining room table... so I snapped a photo of them instead and left them there to wave and nod at all the other passersby.